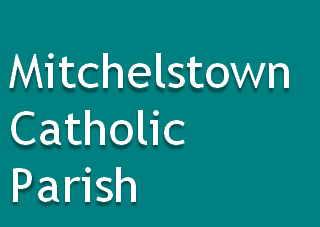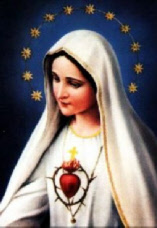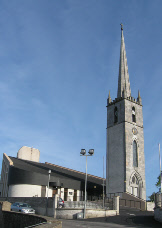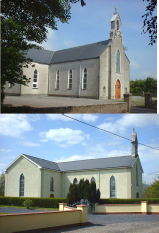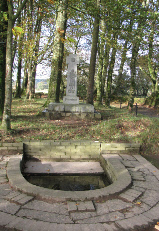 Holy Week Ceremonies and the Easter Triduum in Mitchelstown Parish
SUNDAY 20th MARCH: Palm Sunday – Palms blessed at all Masses (please bring Palms with you). Gospel account of the Passion of Jesus will be read.
MONDAY 21st MARCH: Penitential Rite. 7.30pm.
A Sacred Heart Priest will lead the Celebration and a number of Priests will be hearing confession.
MONDAY, TUESDAY & WEDNESDAY 22nd, 23rd, 24th March
Masses in Parish Church: 8.30am 10am & 7.30pm Morning Prayer at 8am.
(No evening Mass on Monday 22ndat 7.30 p.m. due to Penitential Rite)
WEDNESDAY 23rd MARCH: Chrism Mass in Cobh at 7.30pm. It is hoped that priests & people from every parish in the diocese attend this Mass. So if you can go, you will be very welcome. Bus leaving the Square at 6pm. Please give your name into the Parish Office or Sacristy after Mass.
All Eucharistic Ministers are asked to be present at the Mass of the Lord's Supper on Holy Thursday to renew their commitment. They are asked to line up at the sanctuary steps during the Prayers of the Faithful.
Trocaire Boxes can be handed in at the Church Door on Holy Thursday & will be presented at the Offertory of the Mass.
PARISH CHURCH
HOLY THURSDAY - 24TH MARCH:
MORNING PRAYER & BIBLE READING AT 10 A.M.
MASS AT 5 P.M.: This year's 1st Holy Communion classes will participate in this Mass.
MASS OF THE LORD'S SUPPER AT 7.30 P.M.: followed by Procession to the Altar of Repose.
ADORATION OF THE LORD at the Altar of Repose until 12 Midnight.
CONDUCTED HOLY HOUR OF PRAYER: 11pm to 12 midnight.
The Perpetual Adoration closes on Wednesday at 7pm & resumes again after the 12 noon Mass on Easter Sunday.
GOOD FRIDAY - 25TH MARCH:
A DAY OF FAST & ABSTINENCE (We are to abstain from eating meat & to fast in honour of the Lord's Suffering).
Good Friday: Morning Prayer & Bible reading at 10 a.m.
CELEBRATION OF THE LORD'S PASSION & HOLY COMMUNION: 3.00p.m.
STATIONS OF THE CROSS: 7.30 p.m.
The usual collection for the Christian Shrines in the Holy Land will be taken up. This is a worthy cause & deserves support.
The Divine Mercy Novena begins on Good Friday & finishes on 2nd Sunday of Easter (April 3rd). Special ceremonies in the Church on the day from 2pm to 5pm. (Novena leaflets available at the Churches)
HOLY SATURDAY: 26TH MARCH
Holy Saturday Morning: Morning Prayer & Bible reading at 10 a.m.
EASTER VIGIL MASS: 9 p.m. (candles will be provided)
Please note that there will be no 7.30 p.m. Mass on Holy Saturday Evening.
CONFESSIONS:
Wednesday 23rd March 12.00 – 1.00 p.m.
Thursday 24th March 12.00 – 1.00 p.m.
Friday 25th March 12.00 – 1.00 p.m.
Saturday 26th March 12.00 – 1.00 p.m. & 6.30 – 7.30 p.m.
HOLY THURSDAY:
MASS OF THE LORD'S SUPPER: 7.30 p.m. Adoration until 9 p.m.
GOOD FRIDAY:
Passion of the Lord & Holy Communion: 3 p.m.
STATIONS OF THE CROSS: 7.30 p.m.
HOLY SATURDAY:
EASTER VIGIL: 9 p.m.
EASTER OFFERINGS for the priests of the parish will be taken up on Holy Saturday night & Easter Sunday morning.
Dear Parishioners
The celebration of Easter is coming very early this year, as indeed, did the celebration of Confirmation for the boys and girls in February. We encourage you all to participate in the Holy Week Ceremonies, and, of course, the great celebration of Easter. We will all face our own death one day and as Christians we believe in the Resurrection of Jesus and His promise to reward us with a place in the new life of Heaven. Let us never lose sight of this great truth and we encourage you and your family to keep the weekend Mass as central to your journey to that Eternal Life.
Sincere thanks for your generous financial donations to all the collections throughout the year, may the Lord continue to bless your work and income and may the Lord send more economic development to the community and to the locality.
As we remember the sacrifices and sufferings of our ancestors during the Easter of 1916, may the Lord heal the divisions and hurts of the past 100 years and may we go forward into the future with greater unity and respect and a profound love for our great Nation.
May the Risen Lord give hope to you all!
Canon Michael Fitzgerald P.P., Canon Timothy O'Leary and Fr Gabriel Burke
Divine Mercy Novena begins on Good Friday and finishes on the 2nd Sunday of Easter. (April 3rd: Feast of the Divine Mercy).
Devotions in the Parish Church:
2pm to 5pm.